Home Page
Welcome to the BHS Cornwall Access and Bridleways Web Site. The Site is provided to help you to enjoy your off road riding along the bridleways and paths in Cornwall (on horse and on cycle).
PLEASE DO TAKE TIME TO SCROLL THIS PAGE AND EXPLORE THE SITE
The availability of bridleways and off road riding varies tremendously over the county.
Ordnance Survey Maps show all definitive bridleways and byways (and footpaths).However there are also many other ridden tracks and paths shown. However for many there is nothing to show their legal status. Many of these are ridden and there may be unrecorded bridleway rights on many of these including on some definite footpaths.See our Online Riding Maps. You can also report problems to directly from the online maps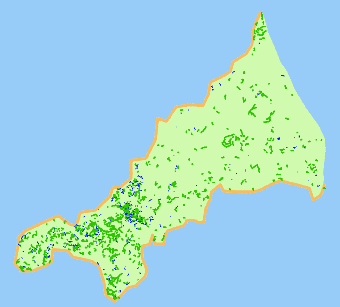 We would like to hear from you and where you ride and the issues you face 
Please  do Click Here 
WHERE DO YOU RIDE?
We want to build a complete picture of what is ridden in cornwall
IS IT ON BRIDLEWAYS, OR OTHER TRACKS OR JUST ON QUIET LANES?
Please tell us
your favourite ride(s), including roads, bridleways and other tracks.
where you used to ride but no longer can
where you would like to ride or your ideas for routes or links that would greatly improve your riding
the location of specific problems you may have
any roads that are particulary busy or unsafe to ride
It is very easy to send us routes and annotated markers using a simple web facility just click Where We Ride

Overgrown Bridleways
More of our bridleways are becoming overgrown. Cornwall Council or parishes are responsible for clearing the surface. BUT responsibility for side and top growth (which is the greatest problem to riders) is strictly the responsibilty of the land landowner. Cornwall Council are now trying to get landowners to take on the responsibilty with little apparent success to date.
Cornwall Council also appear to be relying on riders to complain before any action is taken. SO please do report any overgrown bridleways you encounter. Overgrown bridleways are a real safety hazard!
Please report either via our online riding maps and/or direct to Cornwall Council. BUT PLEASE do also make sure we are aware of your reports as we can then try and ensure action is taken.
Is this a problem on the bridleways you ride? Do let us know. Have you had any accidents as a result of low trees etc.?
email: reports@bhsaccesscornwall.org.uk
Also see Bridleway Closures
Cornwall Bridleway Survey
With the help of riders we want to complete a survey of all bridleways in the county. Currently any rider can submit a report via the web site and we value all the many reports we have received to date. We are now aiming to get even more information on every bridleway and we have made significant improvements to the reporting information including the location of gates.This is a good opportunity for you to help us.
Click Here for more information
Non-Definitive "bridleway" Survey
We need the help of ALL horseriders and (cyclists) to log the usage of the paths we ride that are not recorded as bridleways or byways.
With the CROW cutoff date of 2026 getting nearer and in view of the government's current proposals it is essential that we start now to "register" the paths that we ride. Athough we have identified many paths we do urgently need to gather basic evidence of their curremt usage.
Click Here for more information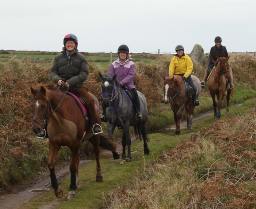 Riders on the 'Tinners Way' over the Penwith Moors This is only a definitive footpath yet it always has been ridden
Wind Turbines
- Please tell us your experiences
See : Wind Turbines
Commons
and their relevance to Equine Access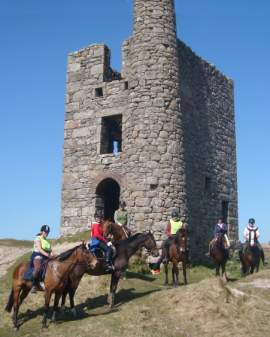 Members of West Penwith Bridlewys Association by Greenbarrow Mine on the Penwith Moors. Few bridleways but we always have enjoyed free access
Cornwall Access News - We can now provide you with much more up to date and local news. FURTHER you can add news from your own area and there is a Forum area for discussion etc. Please do use and contribute to these pages and let other riders know of the access news and issues where you ride. Click Latest News
For Up To Date Guidance on
• Specifications and standards of bridleways and routes
• Recording a Right of Way
• Dealing with confrontation
• Diversion of bridleways
• Electric fencing
• Obstruction of Rights of Way
• Responsible riding and driving
• Stallions on bridleways
• Finding bridleways
• Permissive routes
• Rights of way out of repair
• Advice on gates
• Lobbying
• Town and country planning
• Advice on specifications and standards of mounting blocks
• Cattle grids
• Specification for new Bridges for Equestrian use in England and Wales
Riding On Beaches
The British Horse Society was very saddened by a tragic incident in 2013 on Marazion beach where a horse swam out to sea and drowned.
Unfortunately the sea can be a dangerous place for both humans and animals.
Sadly this tragic incident highlighted the dangers that riding in the sea can pose. In unforeseen circumstances, such as when the rider parts company with the horse, his natural instinct and behaviour will often be to swim in a straight line - which may be out to sea. Horses find it very difficult to turn in water and don't have same geographical awareness that we do, which can, as we have seen, lead to devastating consequences.

When riding on the beach riders need to take every precaution. Always ride in company and ensure you stay parallel to the shoreline, not heading out to sea.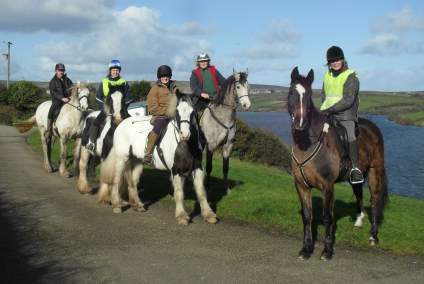 Riders by Drift Dam in the far West of Cornwall
Your BHS County Access and Bridleways Officers for Cornwall are Adrian and Margaret Bigg. See Contacts

We work voluntarily on your behalf to preserve the riding we do have and to improve the bridleway and ridden paths network. County Access Officers are unpaid volunteers. Adrian is also the BHS SW Regional Officer, and is supported by a dedicated access team at BHS Head Office.The BHS is working on your behalf lobbying and liaising the government and councils to forward the access issues to enable improvement to the bridleway network in England and Wales.
The British Horse Society Cornwall is constantly working with Cornwall Council to ensure that bridleways receive the priorirtty they deserve. The BHS nationally is working at with all relevant goverment bodies to promote the necessity for safe off road riding, with associated econimoic and health benefits. Riding and horse ownership is ever more popular and the roads are getting busier. We all do need safe places to ride.
Gates on Bridleways
Ill maintained and unsuitable gates are a big issue with riders and are a reason why riders avoid some bridleways.
Please tell us about the gates you encounter on the bridleways you ride
Click Here for more information