The section of old A30, East of Tregross Road
THIS SECTION IS NOW CLOSED ON SAFETY GROUNDS BEFORE IT WAS BEEN OFFICIALLY OPENED
Originally it was planned to have the trail running in the gutter of the old A30 alongside what still to be a busy road -we held up our hands in horror!.
After discussions with McAlpines and the Country Council we succeeded in relocating the Trail on English Nature land, well away from the road (on the south side - see picture).
Unfortunately the trail still has to pass under the railway line via the old Iron Bridge. The trail width under the bridge is narrower than we would have liked and the road too wide - but rules and regulations dictate!
This is only a relatively short stretch, although visibility is good the traffic is fast and frequent. There is not room for a proper barrier. We don't like the marker posts.
We asked for better traffic calming without result. They have built a 'drag strip' and it is used as such by many vehicles. A horse does not have time to pass under the bridge even if the road is totally clear when start.before vehicles doing 60mph + reach you. We have seen this! You don't have to wait long.
The Highways Agency is being asked to see if anything can be done to make the road safe without success!
The County Council Trails and Highways teams have now concluded the trail is currently unsafe for horses.
Barriers and notices are being erected.
Other options are being explored!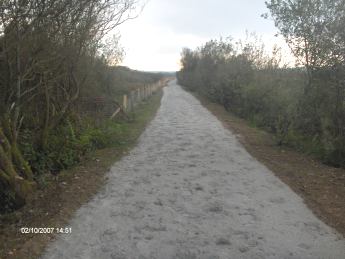 New Trail alongside the downgraded old A30 but now completely separate.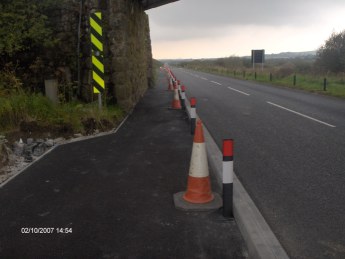 Trail passes under  bridge, looking west. 
(temporay large cones).